My Books are all available on amazon.com in paperback and e-book formats.


The Practitioner Handbook for Spiritual Mind Healing, 214 pages, $16.95

This third edition takes the student further in understanding the power of the practitioner's presence, especially with those experiencing illness, identifying cause through a closer look at the mind/body connection, identifying domestic violence issues, and the latest scientific information on the power of our mind.

Dr. John Waterhouse, President of Centers for Spiritual Living, wrote: "Earlier editions of The Practitioner Handbook have offered invaluable insights into the mystical and the practical aspects of being a Practitioner of high consciousness in today's world. This edition offers even more to its readers and will in its own right become a treasured resource to every person who seeks to deepen and empower their application of Spiritual Mind Treatment."


32 Easy Lessons in Metaphysics and the Science of our Mind, 234 pages, $17.99

32 Easy Lessons reveals the essence of who we are at our most powerful level. When we understand how our mind affects the metaphysical, beyond the physical, it all begins to make sense. There are gold nuggets in this treasure trove to enrich your life's adventure!

Topics include: The Great Amen. Why Limit Yourself? Living a Delicious Life. Our Cells and the Power of Prayer. We are Equipped for These Times. It's Right Under Our Nose. Inspiration, Aspiration, and Dedication. Unrehearsed Living.

32 Easy Lessons is composed of thirty-two of my best Sunday lessons at the Center for Spiritual Living in Redding, CA. It's true: there is a power for good in the universe and you can use it!


History of the Center for Spiritual Living, Redding, 1971-2014, 145 pages, $14.95

The history of our Center is full of memories, those special times at family retreats, insights and personal growth in classes, working together to improve the facilities, creating special projects, and sharing life's ost poignant moments. As a community we have celebrated the milestones of life together, both the joys and sorrows. The book contains many people, places, and events that you may not remember, but it paints a rich picture of this vibrant community that holds such a special place in our hearts.







Engaging Grace, 148 pages, $13.95
Written as Mary Schroeder (before I remarried)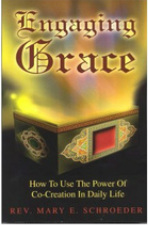 Mary Manin Morrissey wrote: "Engaging Grace is a wonderful book! Mary Schroeder demonstrates an exceptional grasp of New Thought principles and expounds them beautifully. It is packed with profound wisdom. Engaging Grace can be a guiding light for any person wishing to deepen their spiritual life."

Engaging Grace is composed of twelve lessons that examine the basic truths of the Universe brought to us through the teachings of great spiritual leaders, such as Ernest Holmes, Thomas Troward, Raymond Charles Barker, Buddha, Swami Muktananda, Ram Dass, and others. There is no end to understanding God and ourselves more profoundly. As you understand and apply what is presented here, many things will change in your life. Why? Because you will have tapped into a divine and intimate connection with God, who has blessed us with the inherent power of co-creation. It is the power to create a life of heaven or hell here on earth. It is an awesome responsibility that, once understood, can turn each day into a grand adventure, by unleashing a greater flow of grace into everyday life.

Also available on amazon.com in paperback or as an e-book.


---
The Practitioner Handbook, 211 pages, $16.95

Written as Mary Schroeder (before I remarried) in conjunction with Dr. James Golden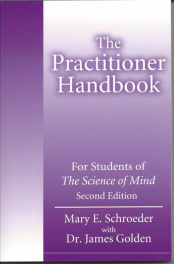 Over 2,000 students used the first edition of The Practitioner Handbook in Science of Mind classes throughout the U.S. Russia, Nigeria, and Canada.

This second edition brings the student one step furhter in understanding the power of meditation and that spiritual enlightenment is an ongoing process. By continuing to fine tune our knowledge of how the Law of the Universe works, students improve their ability to serve others, identifying the source of pain and suffering, in the realization of how our individual consciousness molds our life experience.


---